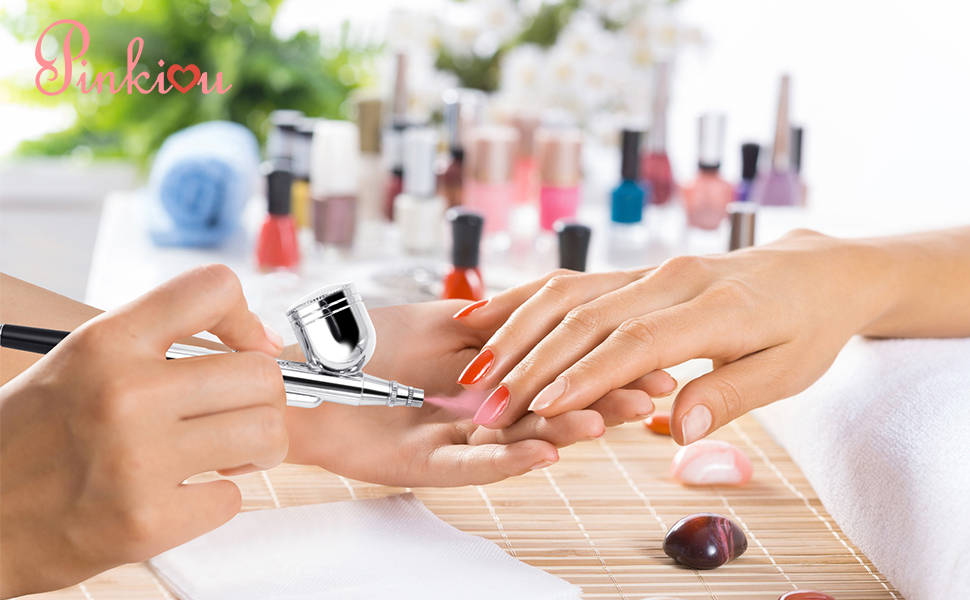 Double Action Airbrush
To use a double action airbrush, it requires user input on a two-direction trigger to manipulate the air and paint flow separately.
1. Press Down For Air
Begin by pushing the button straight down on the trigger, but resist the urge to pull back. At this point you will only be getting air flow.
2. Pull Back For Paint
Begin to gradually pull back on the trigger, while maintaining downward force on the trigger, which allows paint to flow into the high pressure airstream, with the distance the trigger is pulled regulating how much paint is allowed to flow.
3.Adjust The Needle
The differences in adjustment is actually what separates the Double action airbrush from the Single action.The single action airbrush requires you to adjust the positioning of the needle using a knob (typically) located at the tail end of the brush, which is as easy as twisting the knobclockwise, or counter clockwise. But the Double action airbrush does not much adjustment that needs to be done, all the adjustment in terms of paint flow is controlled based upon how far back you pull the trigger.
Pro's & Con's
The double action airbrush has both 'Advantages'and 'Disadvantages' when compared to its counterparts (The single action airbrush).
Pro's Of The Double Action Airbrush
Easy to control paint flow.
Double action airbrushes, through the trigger, allows you instantly and easily switch between small and large paint flows. It allows your work to pull out some of the finer details.
Con's Of The Double Action Airbrush
Harder to master – but worth practicing
The control allows advanced techniques, but it's an added variable that you can develop a 'feel'for how the paint flows and sprays through the airbrush, but it takes time and patience to learn while causing more frustration.
The Opinion
Learning to use a double action airbrush has a slightly steeper learning curve than a single action airbrush but it's worth it.If you break the process down into baby steps and master each one you'll very quickly andsignificantly improve your double action airbrushing skills.
As an added bonus, if you know how to use dual action airbrushes, single action airbrushes are really easy.