10 Best Airbrush Makeup Kits: A Beauty Roundup of the Best Airbrush Kits on the Market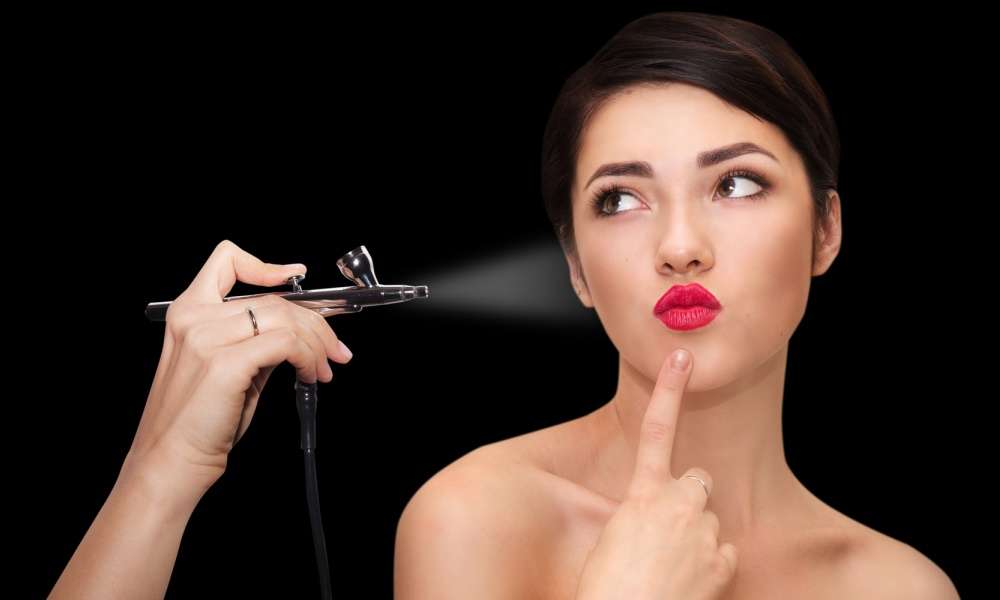 Putting on makeup helps turn a woman or man's face into a flawless canvas. Makeup has been around since time immemorial. It has been used for several reasons. It highlights the face's beauty. It accentuates the best features. It gives the wearer a boost of self-confidence. It also helps to attract others.
With the passing of time, numerous technical developments have given way to better looking makeup. One of the hottest trends now is airbrush makeup. While not new, it has just recently been made accessible to non-celebrities. Now it is a makeup service people can choose aside from the traditional methods.
It offers a lot of benefits and does have its own disadvantages, like the cost of the service itself, but there's one thing that cannot be denied: airbrush makeup produces flawless coverage. It's like your skin but better. Wearers have reported feeling like they don't have any makeup on, which is a great plus for women everywhere.
If you're planning to have airbrush makeup done on yourself or you want to offer it as a part of your business, then it is best that you use the best airbrush makeup out there. Not only will it make your clients happy, but it will make you very happy as well.
How to Choose the Best Airbrush Makeup Kit
This is the ultimate question every makeup artist, professional or amateur, asks. How do you choose the best airbrush makeup? Should you simply look at the advertisements and go for brands that say they are the best? If so, you'd end up buying a whole lot of different brands because each brand will say it is the best.
If you're stuck in a rut about which airbrush makeup to choose, here are a few tips to help you pick out the best.
Pro or Personal Starter Set. Many airbrush makeup companies offer their products in sets. Rather than purchasing the airbrush system (compressor and gun) separately, this includes it in the set as well as the makeup you need to complete a look. Pro starter sets usually offer a whole range of foundation, blush, bronzer, highlighter and a lot more that's able to cover a wide range of skin tones. Personal starter sets are those that carry makeup specifically for one type of skin tone. If you're starting out or plan on using the makeup for yourself, there's no need to buy the professional starter set, no matter how tempting it may be.
Affordable or High End. Your budget is the key thing to consider when choosing between affordable or high end. How much are you willing to allocate for your airbrush needs? Are you comfortable with a hundred dollars? Will it hurt your budget at all to spend 300 dollars or more for a kit? Make sure to read reviews of these products because there are affordable kits that perform comparably well to the more expensive models.
Beginner or Advanced. There are kits offered in the market that are relatively friendly for those that are just starting out with airbrush makeup. There are also kits that many professional will enjoy using and can make much use of. It would be pointless to buy a professional kit when you are starting out because you will need time to practice the technique. On the other hand, professionals may not be satisfied with beginner sets for use on their clients.
What to Look for in the Best Airbrush Makeup Kit
Not all airbrush makeup is designed the same. While one type may be more popular than another, there are still different types to choose from. When you're trying to buy the best airbrush makeup, make sure to look into these important details.
Single action or dual action. There are two types of guns, nozzles, or stylus for airbrushing. The single action is the easiest to learn and perfect for beginners because you simply press the trigger to release pigment. Dual action has a higher learning curve but is preferred by professionals since there is greater control of pigment release. To use a dual action gun, you press down for air and you pull back for makeup.
Gravity vs. siphon feed. There are also two types of feed to the airbrush mechanism. The most popular one is the gravity feed. This is also the preferred one as it uses less pressure and artists have greater control over the spray. The siphon feed is commonly used for spray tan but not recommended for cosmetic application. Greater pressure is required as well.
Compressor PSI. Make sure your choice of compressor meets the standard of PSI for makeup applications. The standard ranges from PSI 30-40. If you plan on using it on the body, the recommended PSI is 70. When you look for a compressor, make sure it has the ability to let you control the pressure.
Foundation and makeup. There are three common types of makeup for airbrush, namely alcohol based, silicone based, and water based. Each type has its own advantages and disadvantages. Alcohol base is not commonly used but is remarkable for its staying power.
It can last up to 5 days. Silicone based is a better alternative to alcohol. It has long staying power and is able to blend impeccably with your skin. Water based foundation and makeup is commonly used and it produces a matte finish. It is recommended because it is gentler to the skin, allows the skin to breathe, and is commonly hypoallergenic.
Bonus items. Each brand offers something different as a bonus to their kit. Some include stencils, cleaners, cleaning kits, more shades of makeup, warranties, and the like. Make sure to choose the one with the most helpful things to offer that you can actually make use of.
We are honored to announce that Pinkiou brand airbrush makeup kit have win the top 10 Best Airbrush kit on amazon.
Here is a article which help select and describe in details about the Pro and cons of each brand.
https://makeupmeetsface.com/best-airbrush-makeup-kit/
please read the link for more details.