Pinkiou Air Brush Kit for Face Paint Review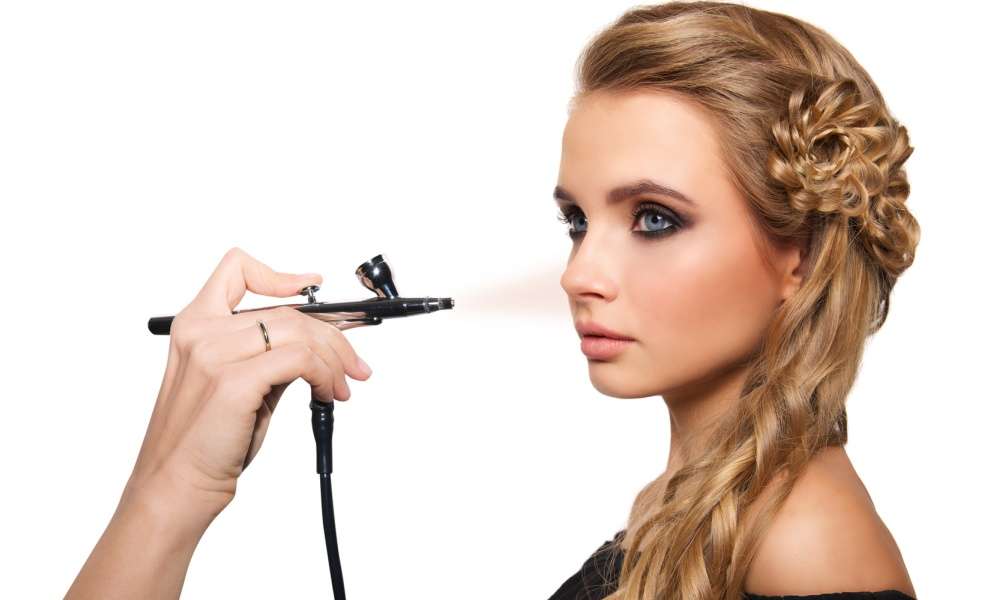 Getting into the hobby or business of air brush painting or makeup doesn't have to be expensive. Sure, there are kits sold for high prices, but when budget just won't allow it, you have a more affordable option. You can buy the airbrush system alone. The Pinkiou Air Brush Kit is very affordable, but performs surprisingly well.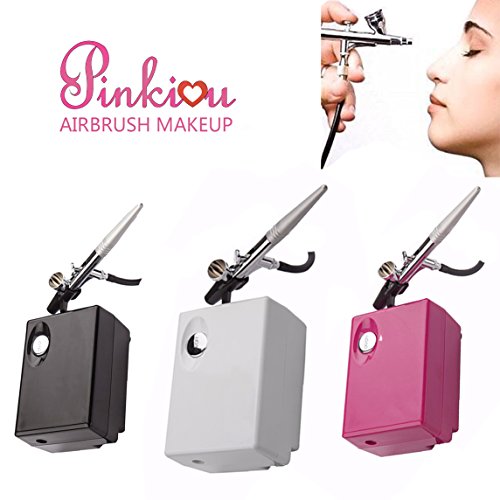 Features
Designed for both professional and personal use
Can be used for a wide variety of applications, including cake decoration, nail art, face paint, makeup and more
Made with high quality components
Quiet and durable mini compressor
Portable and lightweight
Three controls for air flow (low, medium, and high)
Single action trigger airbrush stylus
Cleans and refills easily
Includes air brush, brush holder, compressor, hose, AC transformer, instructions, and storage case
Pros
The biggest advantage of the Pinkiou Air Brush Kit is its price. It's less than 50 dollars and you get a fully functioning compressor and air brush. If you're a beginner, this is a nice kit to start with.
There are many applications for the air brush kit, depending on the hobbies you're interested in. If you're into makeup, you'll have to purchase the makeup separately or use your current collection.
If you're into face painting, cake decorating, nail art, and other hobbies, you'll have to purchase those materials separately as well. This kit solely includes the compressor and air brush.
The compressor is not only lightweight, but also portable and it comes with a storage case so it can stay safe during travel or transport. It is also quiet in operation, so you won't disturb anyone when using it. The compressor has three controls for air flow. While it only has one on/off button, the change in color will indicate the pressure.
Pink is for low speed, blue is for medium, and red is for high speed. This helps get you the look you want with the change in air flow. The compressor itself also comes in three colors that you can choose from. There's black, white, and pink.
Lastly, the single action airbrush is easy to learn, but it doesn't have the control of a dual action airbrush. However, if you're a beginner, this is good enough.
Cons
As great as the kit sounds, one disadvantage is that it doesn't include detailed instructions. If you haven't used one before, you'll need to look at videos online to learn how to prep, clean, and disassemble the kit. Once you get used to it, it'll be easy to do each time.
This kit is sold as a compressor and airbrush unit only. If you're unsure of what products are compatible with the machine, like in the area of makeup, you'll have to figure out through trial and error.
Water-based foundations work great and are generally easy to clean when using airbrush. To make you feel safer, you can purchase airbrush makeup to be sure of compatibility and prevent issues with clogging.
Verdict
This product is recommended if you've used one before as a kit but need another unit for a replacement or as an addition. The complete kits are better suited for beginners to eliminate the hassle of buying compatible makeup separately. It's a good price point, though, and works pretty well. The Pinkiou Air Brush Kit gets a 4 out of 5.
Final Comparison
If you want the affordability of the Pinkiou Air Brush Kit, you'll also like the Photo Finish Compressor and Airbrush. It is just shy of 50 bucks, but the good thing about this kit is that the company offers a whole line of compatible makeup that you can purchase and use. This saves you the hassle of researching which makeup products to use with your airbrush.
The brand has foundations, blush, bronzer, shimmer, and even a setting powder in their line, so you'll have everything you need to get started. The bummer is that if you get the unit, then you'll have to purchase the makeup separately. If you want convenience, go for the Photo Finish complete airbrush kit.
Art of Air is also a good choice and just short of 60 bucks. Like the Photo Finish compressor, it has a completely customizable dial for air flow control. This helps you get a detailed, broad, light, or heavy result based on the look you're going for.
Like the Pinkiou it also has a single action airbrush stylus which is easier to learn. It also offers the same convenience of the Photo Finish brand, in that Art of Air carries a whole line of makeup to complete the look you want. Art of Air also sells a complete airbrush kit for your convenience.
Article from

please read the link for more details.