Airbrush gun Features:
This airbrush spray gun is special use for beauty, makeup, Manicure, Temporary tattoo, cake decorating、and other related purposes.
The high quality of the Airbrush Machine is designed for beauty, spray it delicate, soft, uniform, let your makeup is more perfect. Can produce very detailed lines and soft gradient effect.
Airbrush Gun Kit is Single Action Airbrush paint gun for Cake Decorating, Nail Art, Makeup ,Body Tattoo, Commercial arts, illustrations, photo retouching, hobby and crafts.
Single-action Trigger Air-paint Control. Easy fluid refills and easy cleaning.
Suitable with most Brand water base airbrush foundation.
Maintenance free, Oil-less and Quiet.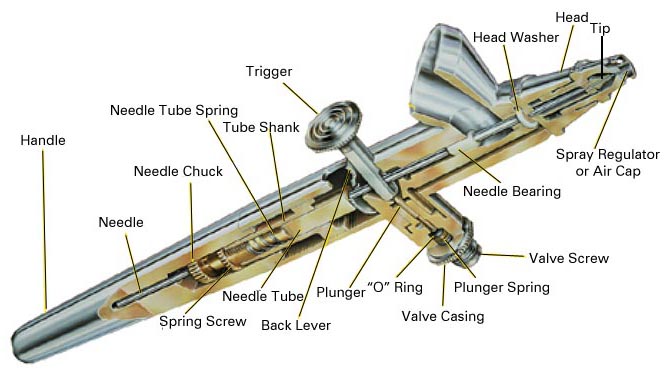 Product parameters
Nozzle Dia:0.4
Cup Capacity: 2cc
Working Pressure:15-50psi
Size:14cm*4.5cm
Color:Shank Chrome plating,Tail handle Matt
Weight:118g
Materical:Copper
Package Includes:
1 x Airbrush Gun
1 x Nozzle Wrench
1 x Eye Dropper
1 x Instruction
How To Use Airbrush Gun ?
Fill fluid in the cup after thinning appropriately.
Hold the airbrush lightly in you hand.
By pressing the main lever,a stream of air emerges.Then draw it backward gradually for Color atomization.
The spray pattern is in accordance with the distance between a work surface and a air brush.
For fine line spray,remove the needle cover and hold the air brush near a work surface.MAINTENANCE
Empty the fluid cup and wash with water or solvent by a brush.
Refill cup with water or solvent,then block the needle cover with a finger and spray.The air flows backward into nozzle to clean the paints remained the air brush.
Made with high quality precision components that enable the Acrylic Paint Airbrush Gun to work efficiently while providing exceptional atomization and accurate spray control.
How To Clean Airbrush Gun ?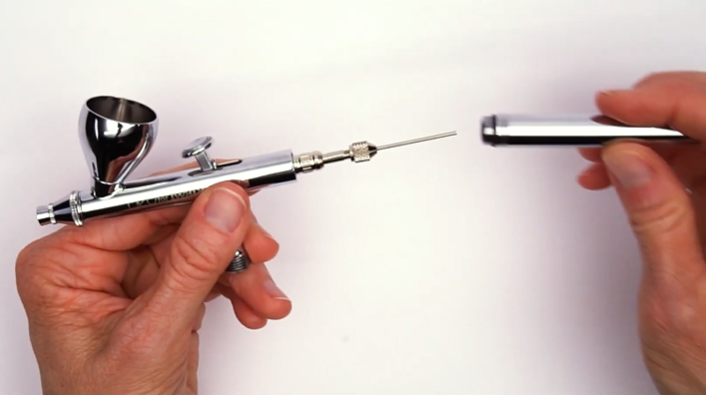 1. Loosen the airbrush's needle chucking nut
2. Pull back the needle slightly to open up the flow
3. Put a few drops of airbrush cleaner into the color cup. One of our favorites is Vallejo's large bottle:
4. Angle your airbrush about 25-30 degrees down and cover the needle cap with your finger. Push down and pull back the trigger slightly to produce a back spray effect. This will clear out any material still blocking the nozzle.
5. Clean the cup with a cotton swab or makeup brush.
6. Pull the needle back and reattach the needle chucking nut. Flush the airbrush with cleanser until it comes out clear (meaning there is no paint left in the airbrush).
To do a deep clean of the airbrush, disassemble the entire airbrush according to the manufacturer's instructions. Soak the needle cap, nozzle, and nozzle cap in rubbing alcohol (99% isopropyl alcohol). Wipe the needle clean with the same solution. Once every part is clean, re-assembly the airbrush according to the manufacturer's instructions.
Be sure to always have the most updated products and cleaning supplies for your airbrush to keep it in top condition. Take a look at the airbrushing accessories we carry for you!